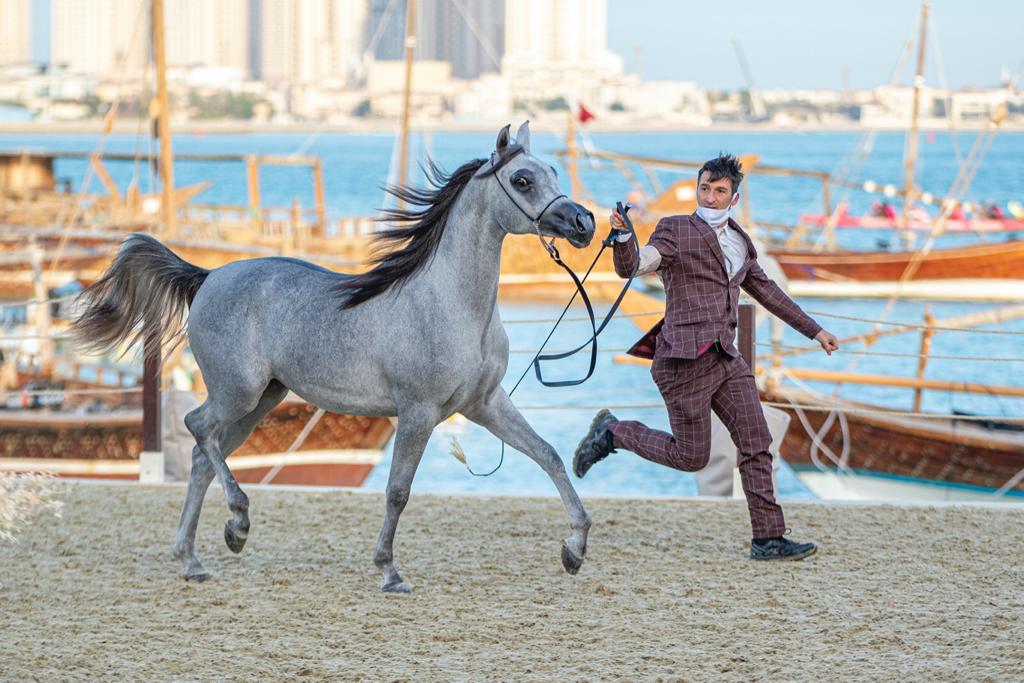 Excitement continues unabated during the Katara International Arabian Horse Festival
The Festival has been attracting several visitors and dignitaries
The third day of the Katara International Arabian Horse Festival (KIAHF), held under the patronage of the Amir HH Sheikh Tamim bin Hamad Al Thani, presented by Cultural Village Foundation, Katara, witnessed more action and excitement. Gorgeous mares, fillies, stallions, and colts strutted their stuff, trying to impress the judges from by European Conference of Arab Horse Organizations (ECAHO).
A number of Their Excellencies and dignitaries graced the Festival. They included the ambassadors and heads of diplomatic missions from Hungary, Austria, Poland, Italy, Ukraine, and Romania.
His Excellency Sheikh Hamad bin Ali Al Thani, Manager of Breeding and Show, Al Shaqab, expressed much appreciation for the support given by HH the Amir for the Festival. HE Sheikh Hamad also applauded HE Prof. Khalid bin Ibrahim Al-Sulaiti, General Manager, Katara, and Chairman of the Organizing Committee, Katara International Arabian Horse Festival, his team, and the partnering organizations for the noteworthy preparation that went into the Festival. Commenting on the success achieved by the many Arabians owned by Al Shaqab and other Qatari-owned studs in KIAHF 2021, HE noted that horses bred and raised in Qatar were indeed world-class.
The Title Show features a total prize money of QAR 13,000,000, one of the highest in the world for an event of this order. Special awards will be awarded to horses achieving high performances over the years.
Besides the Title Show, equine enthusiasts and visitors can look forward to various fun and activities. In addition to families looking for entertainment, the Festival is also attracting equine and art enthusiasts. Several equine-related exhibitions and kiosks are also featured as part of the Festival.
The qualifying rounds for mares and stallions (7 years and older) will be held on 5th February. The final day (6th February) will see the culmination of the Festival as the finalists of the various classes compete. A special 'surprise' show also awaits visitors as part of the grand closing ceremony.
In keeping with the directions laid down by the Ministry of Public Health and to ensure the safety of all concerned, visitors are advised to strictly comply with all the Covid-19 protocols.
List of Finalists
Yearling Colts (Class 4A)
1st place: Areeb Al Nasser, owned by Al Nasser Stud, 91.25 points
2nd place: Ghaith Al Shaqab, owned by Al Shaqab – Member of QF, 90.5 points
3rd place: Harqan Al Shaqab, owned by Al Shaqab – Member of QF, 90.25 points
Yearling Colts (Class 4B)
1st Place: AG Nobel Rafee, owned by Kaheel Stud, 91 points
2nd Place: Zubayr Al Shaqab; owned by Al Shaqab – Member of QF, 90 points
3rd Place: Baghdad Al Hazza; owned by Al Hazza Stud, 89.75 points
Colts 2 Years Old (Class 5A)
1st Place: Muranas Nader, owned by Guy Jamar; 92.58 points
2nd Place: Wadee AlJassimya, owned by Shiekh Jassim bin Khalifa H A Al-Thani, 91.75 points
3rd Place: Gazwan Al Sraiya, owned by Al Sraiya Stud: 91.33 points – won by Type
Colts 2 Years Old (Class 5B)
1st Place: Hader Al Shaqab, owned by Al Shaqab – Member of QF; 92.08 points
2nd Place: Saa'id Al Shaqab, owned by Al Shaqab – Member of QF; 91.42 points
3rd Place: Afas Al Rayyan, owned by Al Rayyan Farm; 90.42 points
Fillies 3 Years Old (Class 3A)
1st Place: Emarella owned by Shiekh Jassim bin Khalifa H A Al-Thani; 92.42 points
2nd Place: Sultanah Al Shahania, owned by H.E Sheikha Reem Mohammed A Al-Thani; 92.17 points, won by type
3rd Place: Mona Lisa Al Jassimya, owned by Shiekh Jassim bin Khalifa H A Al-Thani; 92.17 points
Fillies 3 Years Old (Class 3B)
1st Place: Al Wazna Al Shaqab, owned by Al Shaqab – Member of QF; 92.67 points
2nd Place: Maria Magdalena NWA, owned by Al Dana Al Meslemani – Al Thumama Stud; 92.17 points
3rd Place: Adwaa Al Arab, owned by Al Jumail Stud; 91.83 points
Mares 4-6 Years Old (Class 7A)
1st Place: Najla Umm Aludham, owned by Nasser Mohammed Al Hajri; 92.25 points
2nd Place: E.M Queen Desert, owned by Al Hamad Stud; 91.83 points
3rd Place: Fajer Al Adeed, owned by Khalid Ali Abdulla Al Obaidli; 91.08 points
Mares 4-6 Years Old (Class 7B)
1st Place: Hamamat Al Shahania, owned by Al Shahaniya Stud; 93.08 points
2nd Place: Loulou Al Nasser, owned by Al Nasser Stud – Sheikh Nawaf Bin Nasser Al Thani; 92.33 points
3rd Place: Aria Dinara, owned by Alsafwa Stud; 91.83 points
Colts 3 years old (class 6)
1st Place: Momayz AlJassimya, owned by Shiekh Jassim Khalifa H A Al-Thani; 91.33 points
2nd Place: Radhee Al Shaqab owned by Al Shaqab – Member of QF; 91 points
3rd Place: Fahad Al Shaqab owned by Al Shaqab – Member of QF; 90.58 points
Stallions 4-6 years old (Class 10 A)
1st Place: Kashef Al Shaqab owned by Al Shaqab – Member of QF; 92.08 points
2nd Place: Amir Al Reeh owned by Al Reeh Stud; 91.92 points won by type
3rd Place: Badi Athbah owned by Al Jazeel Stud; 91.92 points
Stallions 4-6 years old (Class 10 B)
1st Place: Jaal Al Jaasimya owned by Shiekh Jassim bin Khalifa H A Al-Thani; 91.75 points
2nd Place: Badiea Al Nasser owned by Al Jumail Stud; 91.67 points
3rd Place: Sultan Al Rayyan owned by Jabor Nasser Sultan Al Towar Al Kuwari; 91.33 points