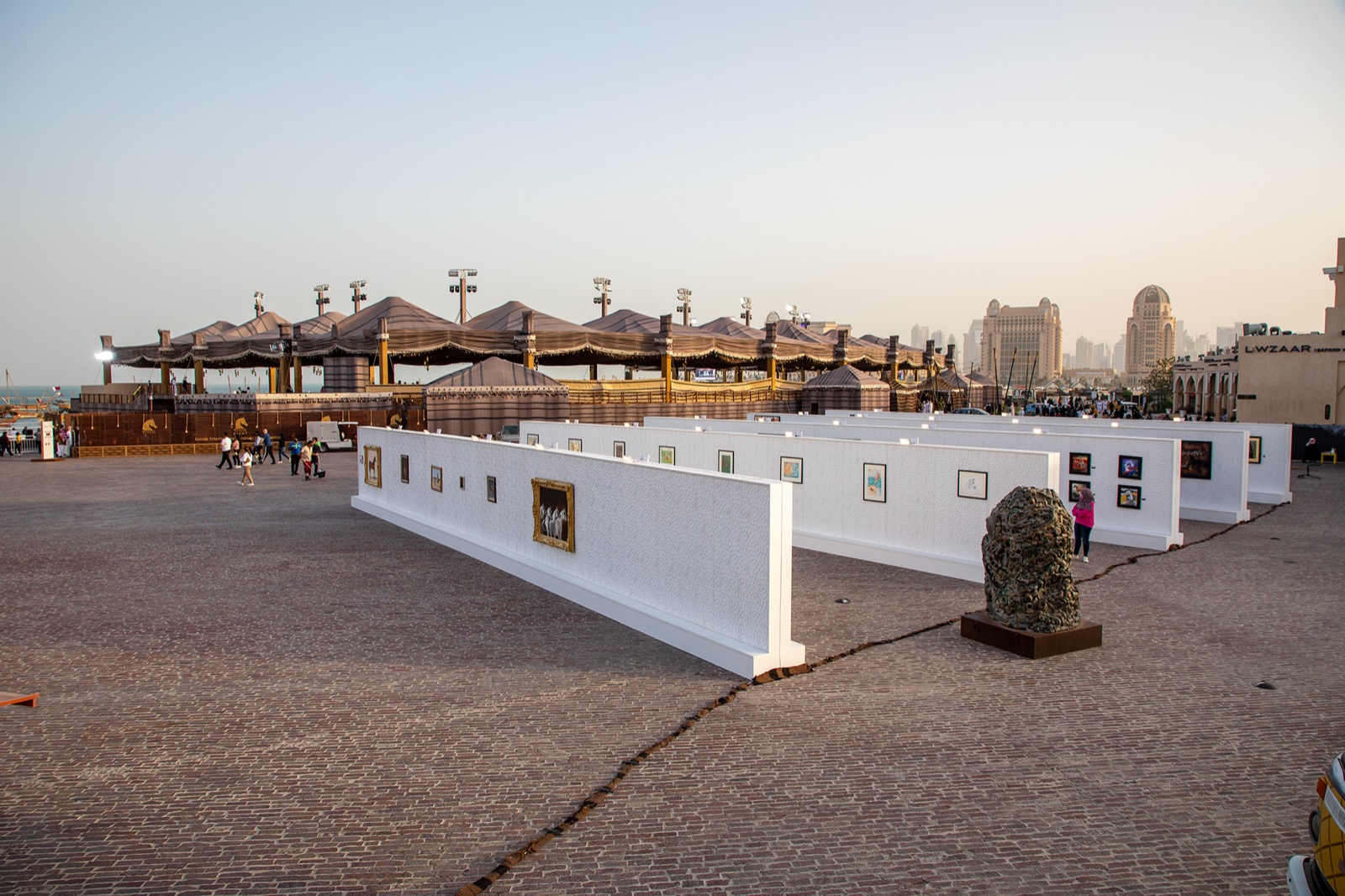 KIAHF 2022 related live art wows horse lovers and visitors
Doha – Katara:
As part of the cultural events accompanying the on-going second edition of the Katara International Arabian Horse Festival (KIAHF 2022), the exhibition (Art and Arabian Horses) located at the Katara Esplanade is being admired and applauded by heritage enthusiasts, art and equestrian followers, and Arabian horse lovers.
As many as 21 painting artists have participated with 106 artistic paintings that celebrate the beauty of the purebred Arabian horses, highlighting their position in Arab heritage, from different creative angles and using various art methods.
The artists present their artistic vision of Arabian horses, whether in wildness and ferocity, or their impulsiveness and vitality. They highlight the richness embodying the beauty of horses and equestrianism, with all cultural repertoires, characterized by exquisite subtlety, accuracy and beauty. With the multiplicity of art methods and raw materials from painting with oil colors, pencils or watercolors, the methods of subtraction in which these works are presented and in which the Arab horses won, as a creative vocabulary with aesthetic and symbolic significance, derives its importance from the position occupied by the horse in Arab heritage, history and literature.
It is noteworthy that the exhibition includes some creative works that mixed formation and letters, to embody with high skill and craftsmanship, verses from poetry by the founder of the State of Qatar, Sheikh Jassim Bin Mohammed Bin Thani, in addition to verses from poetry and literature by great Arab poets such as Antara bin Shaddad and Al-Mutanabbi.
The painting area on at Katara Esplanade also offers a distinctive artistic activity that attracts the interest of visitors. This includes live saddle painting where more than 20 Qatari and resident artists paint live on horse saddles.
Artist Joud Rashidat, participating in the event, says: "Painting on saddles is an art that is different from the prevailing one and it is a wonderful occasion to diversify and develop art, as well as to promote the celebration of Arab horses and revive the Arab heritage through art."
In free drawing, artist Lina Fouad says, "We are a group of artists who do free drawings related to horses, and the KIAHF period is sufficient to finish two or three paintings about these horses. The Katara International Arabian Horse Festival is an important opportunity for us artists to present our artistic experiences and introduce the public to our creations and exchange experiences between us, which contributes to the development of our skills.
Among the art corner that attract artists, there is a photo gallery of the legend of Al Shaqab, which presents many and varied pictures and paintings of the Al Shaqab horse breed and the achievements of these horses at various championships, whether in Qatar or at the regional and international levels, the most famous of which is 'Marwan Al Shaqab'.