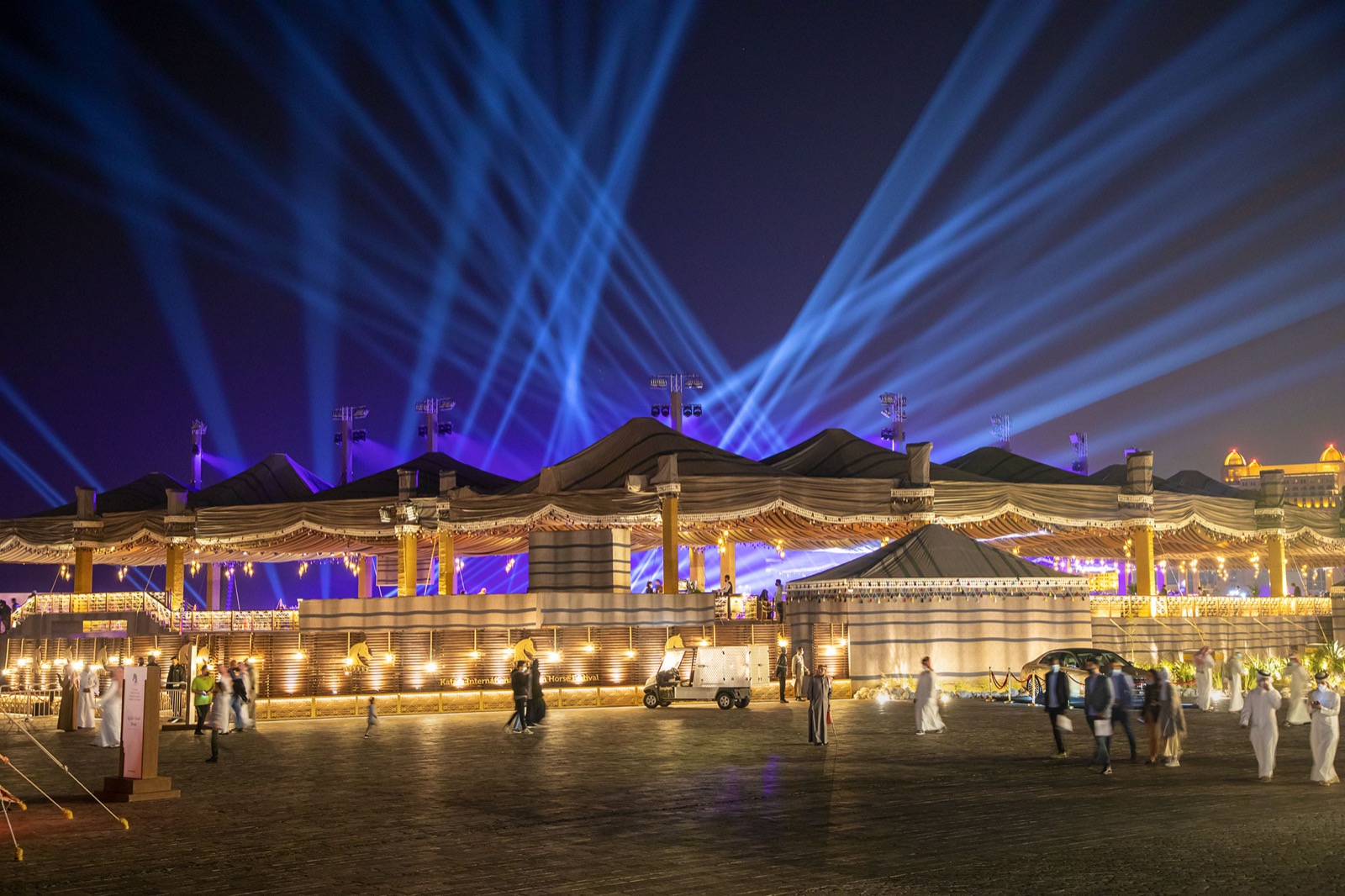 Qatar horses make big impression as KIAHF 2022 Peninsula Horse Show heads to finals 
Doha-Katara
The Katara International Arabian Horse Festival (KIAHF 2022) continued to showcase finest purebreds from the region in the Arabian Peninsula Horse Show on the third day of the 11-day event which was marked by beautiful pyrotechnic lights in between the shows adding to the resplendence of the main arena of KIAHF at the Katara Esplanade.
The second edition of KIAHF is organized by the Cultural Village Foundation – Katara in association with Qatar Equestrian Federation, Qatar Racing & Equestrian Club, and Qatar Foundation. It carries a total prize of QAR 17,083,500 including QAR 3,093, 500 for the Arabian Peninsula Show which is showcasing 239 horses from five countries.
KIAHF 2022 continues till February 12 with the participation of 11 countries including Europe and the USA.
On Friday, purebred mares and stallions were on show in six categories from ages 4 to 11 years old. Horses with beautiful mane and "skirt" at the tails, impressive eyes, body movement, grace, and muscles wowed horse owners, breeders, trainers and horse lovers alike.
While the mares possessed amazing balance, poise and beauty, the stallions displayed structure, strength and excellent type.
Qatar horses continued to excel with horses from Al Shahania Stud, Al Shaqab, and Al Waab Farm emerging in the top three of the opening Mares 7 to 10 Years Old – Class 8A of the day. Ehsan Al Shahania was first, Mashhoorah Al Shaqab second, and Majda Al Waab, third.
Al Rayyan Farm's horses stood out in the Mares 7 to 10 Years Old – Class 8B with Menouah Al Rayyan being a stand out. The last horse to enter the arena she was impressive and surged to the top getting the best score.
Finishing a very close second was Salma Al Bawady with her beautiful eyes and mane being very impressive, while Nawaal Al Rayyan finished third in this category.
In Mares 11 Years Old and Over – Class 9, Nardene Al Naif, owned by Sheikh Abdulla bin Nasser Al Thani, was adjudged as first.
Basheer Al Waab, owned by Sheikh Meshaal Issa T I Al-Thani, stood first in the Stallions 4 to 6 Years Old (Class 10A).
Nhaar Al Nasser of Al Nasser Stud topped the Stallions 4 to 6 Years Old (Class 10B) category.
Ali Al Rumaihi, the Title Show Deputy Director of KIAHF, and Secretary-General of Qatar Equestrian and Modern Pentathlon Federation, said the qualifying rounds of KIAHF Peninsula Show have witnessed a large participation of horse owners from within and outside Qatar. The competition is strong and close with decimal points making a difference in the rankings. He expected the final rounds to be more thrilling.
Al Rumaihi pointed out that KIAHF competitions are supervised by an international jury of eleven judges with long experience in the field of arbitration. KIAHF is subject to arbitration systems according to specified standards and clear rules globally recognized by the ECAHO (European Conference of Arab Horse Organizations).
This ensures the integrity of the competitions and the structure of the festival, he stressed.
He wished success to all participants at KIAHF 2022, which is also one of the aspects of sports tourism in the country since it is characterized by various activities that reflect Qatar's equestrian heritage.
Saturday (February 5) will see the championship classes of the Arabian Peninsula Horse Show starting at 4pm in the following order: Yearling Fillies Championship (Class YFC); Yearling Colts Championships (Class YCC); Junior Fillies Championship (Class JFC); Junior Colts Championship (Class JCC); Senior Mares Championship (Class SMC); Senior Stallions Championship (Class SSC).
KIAHF 2022 Arabian Peninsula Horse Show (Day 3) Results
Mares 7 to 10 Years Old – Class 8A
1. Ehsan Al Shahania 92.44pts
2. Mashhoorah Al Shaqab 92.25
3. Majda Al Waab 91.69pts
Mares 7 to 10 Years Old – Class 8B
1. Menouah Al Rayyan 92.93pts
2. Salma Al Bawady 92.86pts
3. Nawaal Al Rayyan 92.07pts
Mares 11 Years Old and Over – Class 9
1. Nardene Al Naif 93.06pts
2. Elisa 93.00 pts
3. Sulima Al Rayyan 92.81pts
Stallions 4 to 6 Years Old (Class 10A)
1. Basheer Al Waab 91.81pts
2. Efreen Al Rayyan 91.38pts
3. Al Adeed Laffan 91.19pts
Stallions 4 to 6 Years Old (Class 10B)
1. Nhaar Al Nasser 92.50pts
2. Aseel Al Jassasiya 91.81pts
3. Hejaazi Al Rayyan 91.56pts